Jacksonville University raised its profile by focusing on the student experience and investing in leadership. President Tim Cost assembled an impressive team of leaders, from the dynamic provost, Dr. Christine Sapienza, to the country's youngest athletic director of the year, Alex Ricker-Gilbert. I met these and other JU leaders during an independent educational consultants (IECs) visit May 9 and 10, and I was impressed by the enthusiasm of the faculty and staff of this private university with about 3,000 undergraduate and 1,300 graduate students from all over the country and the world.
DI LAX

Jacksonville University gained national notice this year with the success of its DI men's and women's lacrosse teams. Once JU eliminated its struggling football team, it routed those funds to lacrosse, basketball, and baseball. Lacrosse now has its own building, with men in one wing and women in the other. In the men's locker room, the coach read off each name from the lighted plaque above the locker, telling us the player's home state and major. The basketball team also has new digs. Both the men's coach and the women's coach spoke to us about the special community that forms at JU. The men's coach said that at a large state school, the athletes are in a bubble, separate from the rest of the student body, but at JU, athletes are fully integrated into campus.
Location, Location
With 240 acres along the St. John's River and a short drive to the wide Atlantic beaches of Jacksonville, the venue appeals to those drawn to the water and the tropical Florida climate. Taking advantage of its location, JU hosts the Marine Science Research Institute, which partners with OCearch and Mote Marine to conduct ocean research. Sailboats and rowing skulls are housed by the marine science lab for sailing and crew teams.
Dr. Quinton White has been teaching marine science at Jacksonville since 1976, and aboard JU's floating classroom, he explained that those getting a B.S. in marine science can choose between two tracks: marine biology or oceanography. White knows the St. John's River better than anyone; he is also an expert on the oceans. He has led more than 10 trips to the Galapagos Islands and studied sharks.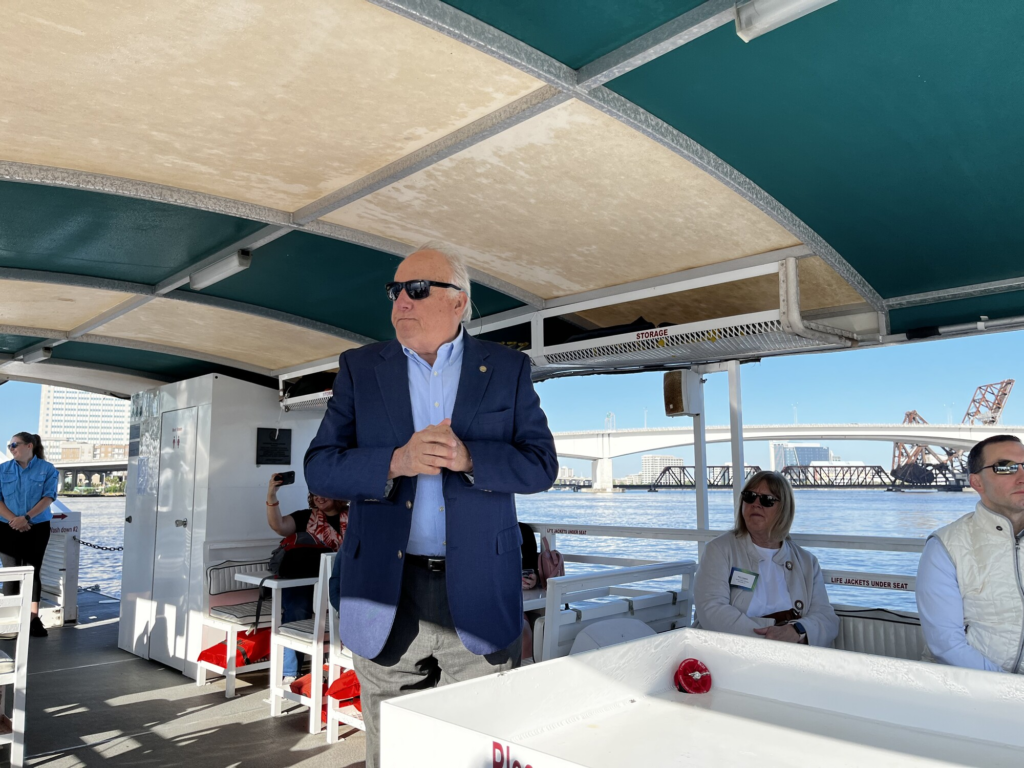 Collaboration
Collaboration, like that of the Marine Science Research Institute and Ocearch, reaches across the four colleges: College of Business & Technology (Schools of Business, Engineering & Technology, and Aviation & Military Sciences); College of Arts & Sciences (Schools of Social Sciences & Education, Sciences & Mathematics), College of Fine Arts (Schools of Performing Arts, Arts & Design, Humanities); College of Healthcare Sciences (Schools of Nursing, Applied Health Sciences). Each college dean explained how their partners in the city of Jacksonville help ready their students for successful careers. This fall, JU will open a fifth college, a law school.
The city of Jacksonville is a hub for banking, the U.S. Navy, healthcare, and insurance, so internships are plentiful. The Mayo Clinic and Baptist Hospital partner with the school of health sciences. Tim Snyder, dean of the College of Fine Arts, said that his school, too, is professional: they are preparing their artists to make a living from their art. Jacksonville was the first school to offer glassblowing as a major.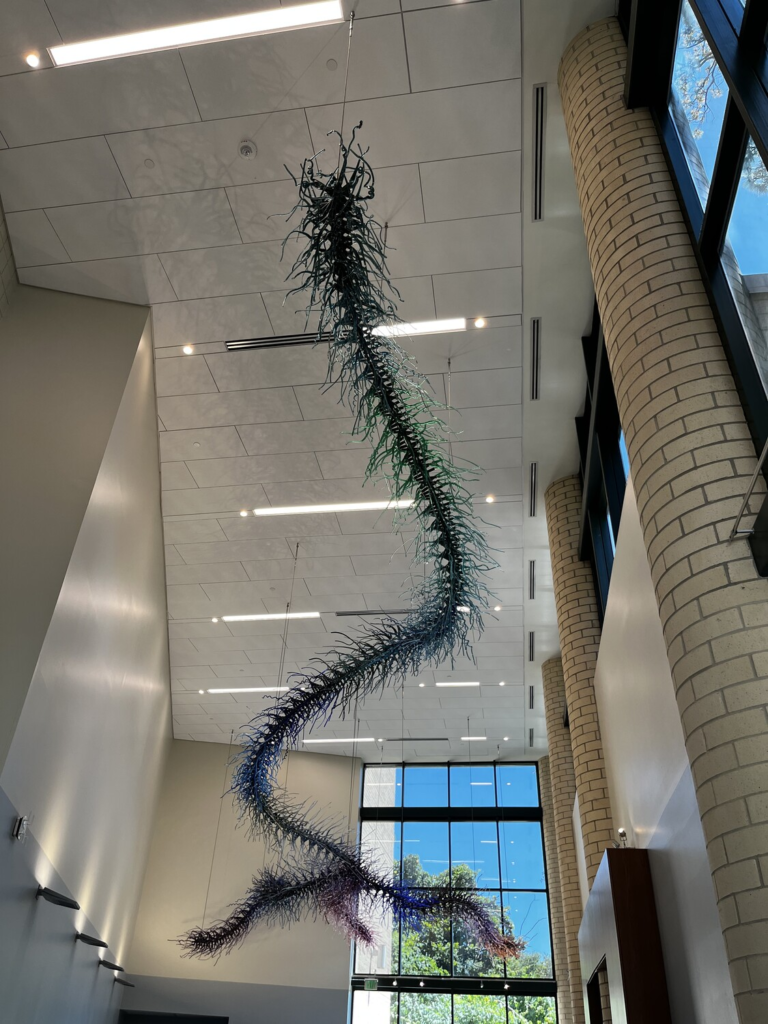 A serpentine, multi-spiked glass sculpture 100-feet long hangs from the performance hall ceiling, to represent the sound of music. Snyder said that the College of Fine Arts has a very high retention rate because of the personal attention each student receives.
Simulations
Students in the health sciences have cutting-edge technology to introduce them to medical concepts in a new, 30,000-square foot facility. They use virtual reality (VR) to dive deep into the heart or lungs or kidneys. We watched a demonstration of a stent being placed in an artery while the operator of the "procedure" wore a VR headset. In the simulation lab, nursing students can listen for a pulse or wheezing on a dozen robotic patients, practice inserting a needle, and even participate in the birth of a robotic baby. In another lab, Anatomage tables enable students to dissect a human virtually. Jacksonville has a direct-admit honors program to nursing.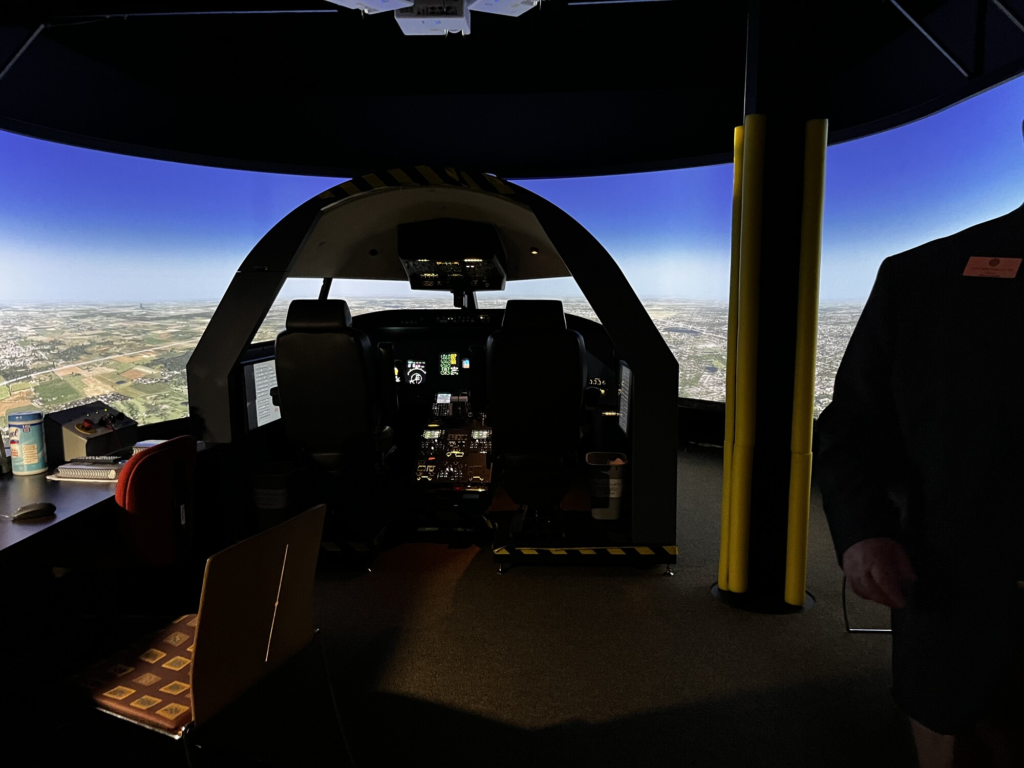 Simulation also figures in the business department, where aviation students can practice flying in a simulated jet. Embry-Riddle and Florida Tech aren't the only schools where students can become pilots. Though JU doesn't own or maintain its own fleet, JU students fly planes owned by L3 Harris. Aviation is one of JU's biggest majors. Aviation majors start flying from their first year.
PODS ™
PODS ™ stands for Pathways of Distinction, an online program (and intellectual property of JU) put into place for students to become career ready. JU students are encouraged to find minors or complementary majors that will enhance their marketability. For example, a psychology degree might pair well with a business minor. Don't do just one thing, they say, expand your skills, become more agile, and expand your horizons.
Anyone can experiment with the site, pods.ju.edu. Step 1: Select one or two areas of interest. Step 2: Select major(s). Step 3: Select minor(s). Step 4: Calculate. A strong POD requires at least 120 credit hours and fewer than 144. Once you've got your POD, or combination of majors and minors, it will give you possible careers and a summary of JU courses that make up the POD you created. 
Support
Jacksonville U. combines general advising and specific advising with faculty liaisons from each college. They encourage internships, practicums, experiential learning. They encourage doing more than one thing. This fall, freshman will start a week early to bond and get acclimated.
Politics
While the political climate in Florida has made many IECs and families concerned about adding Florida schools to a student's list, President Cost assured us that as a private college, one of 30 in the state, the governor's reach stops short of his campus. When the new health sciences facility opened, President Cost didn't allow Governor DeSantis to use its grand opening for a Fox News piece. It remains to be seen how Florida schools, public or private, will handle women's health with Roe v. Wade overturned.
Jacksonville U. offers collaboration and hi-tech simulation