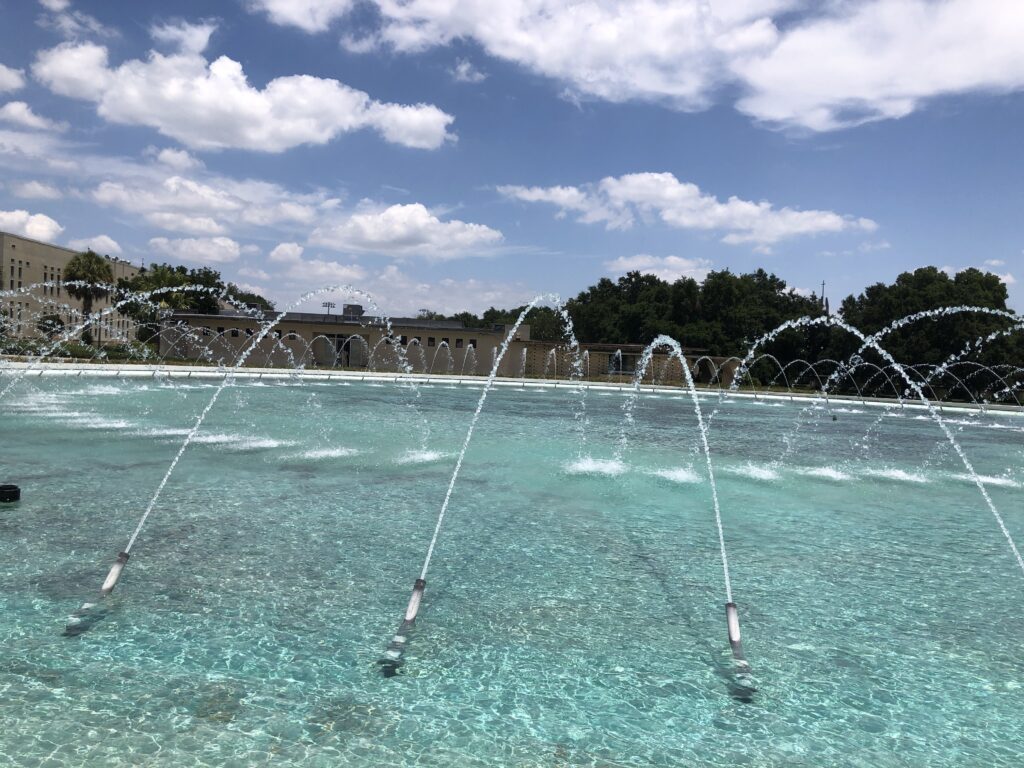 Florida Southern College is a private, loosely Methodist-affiliated, liberal arts college established in 1883, the oldest private college in Florida. It lies just to the west of Orlando in the center of the state in Lakeland. The campus has been named one of the most beautiful in the country for its architecture, landscaping, and lakeside location.
Architecture buffs visit the campus to see the world's largest concentration of Frank Lloyd Wright architecture, dating to the 1940s and '50s. (Wright must have been a very short man–my 6'7" husband would need to duck under the covered circular pathway.) According to the plaque, the campus is "the only tangible example of his community planning ideas."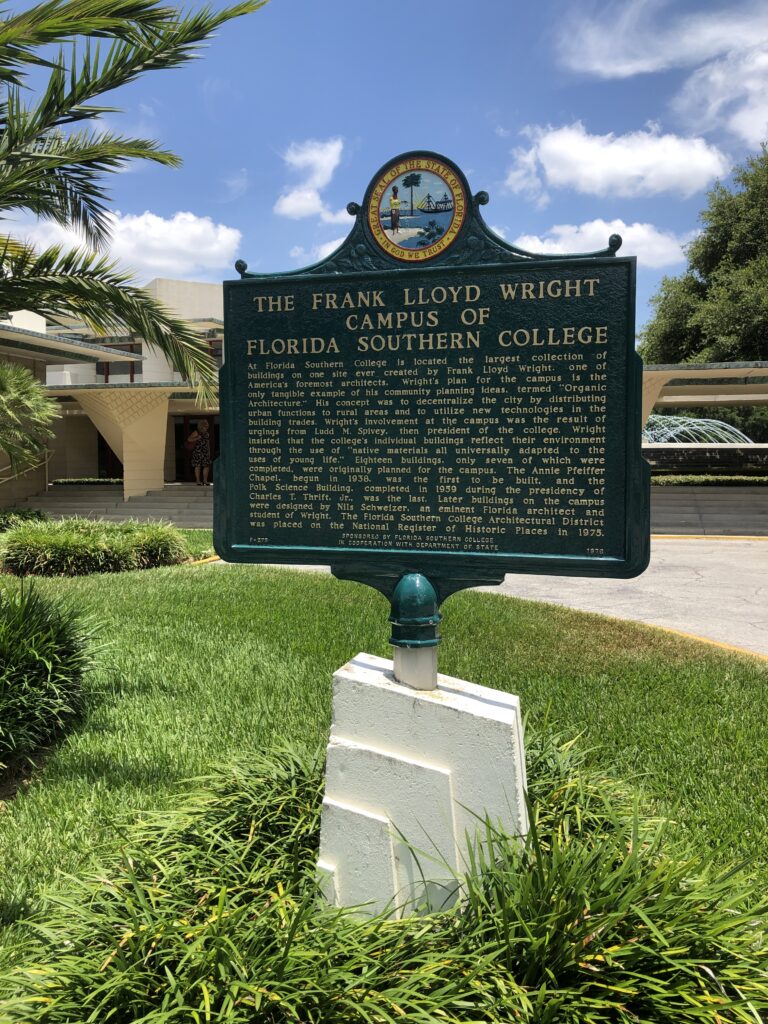 Though FSC is a small liberal arts college, the Mocs (the water moccasin is their mascot) have a Division I e-sports team with their own space for gaming. It also offers STEM majors like applied math and statistics; biology, biotechnology; computer science with concentrations in AI and cybersecurity; citrus horticulture; and game design. The 2,500 undergraduates have over 70 majors to choose, plus 12 pre-professional pathways from dental to veterinary medicine. In their most recent brochure, FSC posted that 100 percent of their pre-law students were accepted into law school and 100 percent of their nursing students were accepted into graduate school or placed in a job. (Note about these figures: It's not clear if that's 100 percent of all who applied or only those who responded to their survey–something you should question whenever a school shows a figure like that!)
The Florida Department of Education rated Florida Southern's elementary education program the best in the state among private schools, and second among all private and public institutions in Florida. Education majors get 400 or more hours of clinical practice at the on-campus pre-school and elementary school.
Florida Southern has a commitment to experiential education, or "engaged learning," encouraging students to apply classroom learning in real-world settings. A partnership with Tiny Earth Initiative allows 100 percent of freshman biology students to conduct hands-on antibiotic research. All first-year students get assigned a faculty adviser who will help them map out their academic journey. In addition, FSC makes three guarantees: 1) "you'll land a professional internship," 2) "you'll travel the world," and 3) "you'll graduate in four years."
For more about Florida Southern, check out their website at www.flsouthern.edu. They are open again for in-person tours.