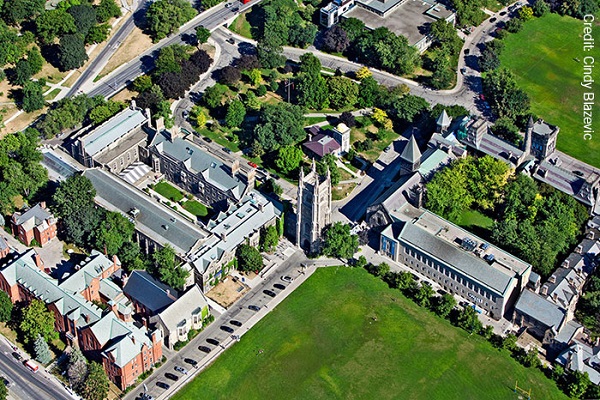 Florida-based IECs in August of 2019 set up a virtual conference with admissions representatives from three Canadian schools–McMaster University, University of Waterloo, and University of Toronto. Here's what we learned.
McMaster University: https://future.mcmaster.ca/
McMaster University is in Hamilton, Ontario, 45 miles west of Niagara and Toronto. The school backs onto Lake Ontario and is near 126 waterfalls. McMaster has 50 buildings and 14 dorms set on 300 acres, with 23,000 full-time students–primarily undergraduates–from 100 countries. Their motto: Creating a Brighter World.
Some more popular offerings at McMaster include bachelor's degrees in technology, business, chemistry and physics, economics, computer science, engineering, and integrated biomedical engineering & health sciences. According to the admissions representative, McMaster is Canada's most research-intensive university. They focus on personalized learning through small groups, design projects, problem-based learning, flipped classrooms, and inquiry.
University of Waterloo: https://uwaterloo.ca/admissions/
The University of Waterloo is in Ontario, about 1.5 hours from Toronto, on 1,000 acres of land that includes experimental wetlands. With 40,000 students (33,000 undergraduates), it aims to be "student friendly." According to the admissions representative, Waterloo is known as Canada's innovation leader, a comprehensive university with significant research but no medical school or business college. Google is a five-minute drive from the main campus in Canada's "Silicon Valley."
Waterloo allows for interdisciplinary studies, meaning a student can find two majors mixed, such as business and engineering. It offers degrees in 14 categories of engineering, architecture, applied health sciences, environmental sciences, environment & business, global business & digital arts, and much, much more, accounting through tourism.
Every faculty member offers a cooperative educational experience, or work-integrated learning; class and work complement one another. Cooperative education is career related, and UW monitors student progress, with up to two years of paid work experience with 7,000 employers each term. This lengthens the time to get a bachelor's degree to four years and eight months, but you're getting that paid work experience built in. The school uses a 12-month, three-term system that alternates between school and work.
Use the OUAC to apply, but note that Waterloo requires the writing test from the ACT or SAT and will not accept subject test scores.

University of Toronto: https://future.utoronto.ca/apply/
Toronto, a vibrant, multicultural city of three million, is less than 500 miles from Washington, D.C. With a total 90,000 students, 65,000 undergraduates spread over three campuses, U. Toronto uses the College System, breaking the campuses down into smaller social communities within each campus. With the large size comes 700 program options and comprehensive medical, doctoral, and professional programs.
UT ranks #18 in the Times Higher Education World University Rankings, above Cornell and Duke, and is second only to Harvard in sciences publications. It's a world-class research institution with over 20 percent of its students hailing from outside Canada. The largest of the three campuses, the St. George campus, is set in the city amid historic architecture mixed with green spaces; Mississauga and Scarborough campuses spread across 200 and 300 acres, respectively, with the former boasting a large protected green area and the latter, a new aquatics center. All three campuses grant the prestigious University of Toronto degree.
These Ontario schools use a central application, the OUAC or Ontario Universities' Application Centre, and they focus on academics. Applications aren't evaluated holistically; GPA and AP/IB scores matter. Generally, a year at a Canadian institution can cost less, $36K to $57K in Canadian dollars, which is about 20 percent less in American dollars ($30-$46K). Federal and private loans can be used at schools across our northern border. Applicants to University of Toronto should apply there directly instead of through the OUAC; McMaster and UT accept the FAFSA for financials. Check the schools' websites for up-to-date info.

Canadian schools may save you money